Best Time to GO
Between June to September and January to February (Dry Season)
High Season
Between July and August including Christmas and New Year
Best Know for
Bwindi National Park, Kibale Forest National Park and Queen Elizabeth National Park, Primate safari tours
All About Uganda
An underrated biodiverse country in the east, Uganda remains to be one of the most popular destinations especially for those seeking to find an abundance of primates, a myriad of butterflies in different colors and 11% of the birds found in the world. For many centuries, Uganda has been known for hosting over half of all mountain gorillas in the world and the largest concentration of chimpanzees in East Africa. But that's not all. Uganda is also home of the tallest mountain range in Africa – the Rwenzori Mountains, otherwise known as the "Mountains of the Moon."
It is also where you can find Lake Victoria which sources the Nile, one of the 7 natural wonders of Africa. With all these and more.
There are numerous beautiful parks in the country that is available for tourists to explore. There's the Bwindi and Kibale National Parks and the Queen Elizabeth National Park. Another place you should check out when you are in the country is the Murchison Falls which drops to about 30 meters and is found in the Murchison National Park. Many say that there's a constant rainbow over the falls because of the spray of water as it crashes down.
Uganda lives up to the standards of an authentic African experience. As Winston Churchill, who was quite enthused about Uganda's grandeur, would put it: For magnificence, for variety of form and color, for profusion of brilliant life — bird, insect, reptile, beast — for vast scale — Uganda is truly "the Pearl of Africa."
Bwindi and Kibale National Park
Bwindi National Park is known for its Mountain Gorilla population. Getting to spot a silverback during a trip to see these amazing creatures is definitely a once in a lifetime experience. Aside from the gorillas, birds are also a main attraction when visiting the Bwindi National Park. It's one of the best places to be for birdwatching. The Kibale National Park, on the other hand, is known for its chimpanzee population. In fact, it is known to be the best place to visit if you want to see them in East Africa. There are other primates in the area too aside from the chimpanzees like the blue & red-tailed monkeys, red-colobus mangabeys, and the grey-cheeked mangabeys.
Queen elizabeth national Park
The Queen Elizabeth Park is one of the best known parks in the area. It's home to a lot of safari animals but most importantly it is home to the chimpanzees which are protected in the park. The park is also part of the African Great Lakes Region which means there are a number of beautiful lakes for you to visit like Lake Edward and Lake George. If you're keen in seeing the park from an aerial view then you'll be glad to know that there are hot air balloon tours available. It offers a magical experience to those who are willing to fly up high.
Murchison Falls
The Murchison Falls is found in the Murchison National Park which is the largest park in Uganda. It is home to various animals such as the elephants, giraffes, chimpanzees and lions. The water of the falls comes from the Victoria Nile River which cascades down a 30 meter drop into the Nile River. It's a spectacular natural wonder to see if you are in the area. A lot of famous people have been visitors to this part of Uganda including Ernest Hemingway and Winston Churchill.
Tours
Bwindi Impenetrable
|
Kibale Forest National Park
Primates of Uganda Safari
Price From $1460 USD
This tour will see you go to the western side of Uganda. You will make stop overs at Lake Mburo, sleep at the famed Mantana Camp, go for Gorilla tracking and many more. [su_list icon="icon: check-c
Bwindi Impenetrable
|
Lake Mburo National Park
Explore Uganda Safari
Price From $890 USD
This 4 days Gorillas Tracking and Lake Mburo safari will expose you to both Ugandas Forested parts and the Savannah Plains in Bwindi Impenetrable and Lake Mburo National Parks respectively. While i
Bwindi Impenetrable
|
Queen Elizabeth
African Rainforest Adventure Safari
Price From $3795 USD
This tour provides excellent opportunities to see elephants, lions, Leopards, Giant forest Hogs, Cape Buffaloes, Uganda Kob, Topi and Bush bucks and many more. [su_list icon="icon: check-circle" ic
Accomodations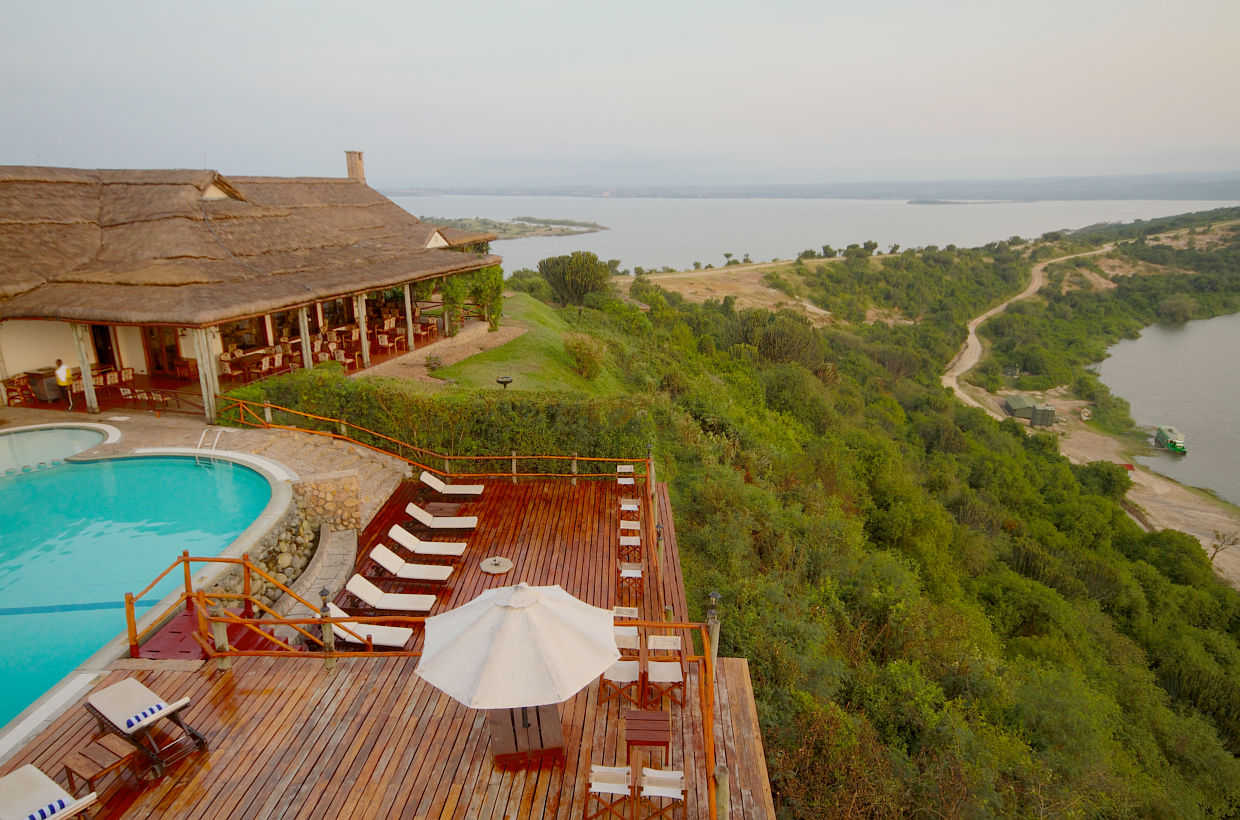 Uganda
Mweya Safari Lodge
The Lodge is located on a peninsula within the heart of the Queen Elizabeth National Park and surrounded by the magical Rwenzori Mountains – the 'Mountains of the Moon'; Mweya Safari Lodge offers visitors a spectacular experience of luxury in the wilderness.
View Details

Uganda
Buhoma Lodge
Buhoma Lodge, a top quality and intimate property, commands spectacular and uninterrupted views of the Bwindi Impenetrable Forest National Park, home to the rare and elusive Mountain Gorilla. One of only two lodges situated within the National Park, we're a short walking distance from the meeting point for gorilla tracking and other activities in the area.
View Details

Uganda
Ishasha Wilderness Camp
Ishasha Wilderness Camp is situated within the Southern Ishasha sector of Queen Elizabeth National Park on the Ntungwe river, an idyllic retreat for people who truly enjoy the wilderness. This exclusive camp offers superb quality accommodation and services
View Details
Contact Us
Plan your next adventure with us! We are available for you 24/7, wherever you are in the world.
Inquire
Receive Discounts and offers
Leave your e-mail and be the first to receive our latest promotions